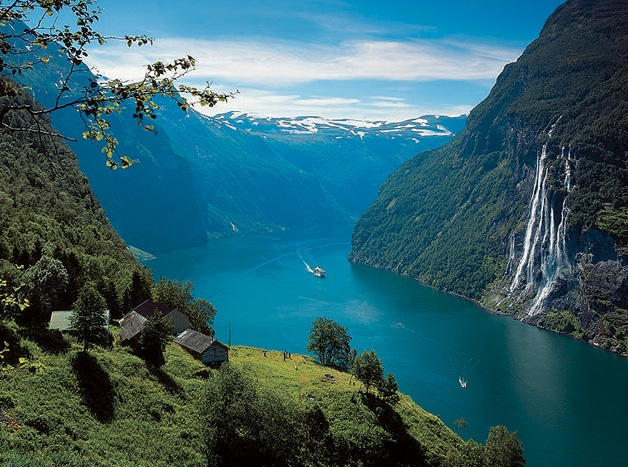 The Galapagos Islands were discovered entirely by chance in 1535, by a group of Spanish sailors.
They called them Les Encantadas – meaning the Enchanted Isles – because of their enchanting and mystical beauty. Nearly 500 years on, the Galapagos Islands have lost none of their awe inspiring splendour.
If you want a break from modern life, then this is the ideal destination. For many of us, the magnificent surroundings and abundance of wildlife makes it seem as if you are stepping into a parallel universe. Despite lying along the Ecuadorian Equator, the ocean carries both warm and cool currents, giving an unparalleled opportunity to see penguins along with flamingos, and iguanas, and also sea lions. However the diversity of local fauna is not the only attraction, the animals are surprisingly unwary of visitors, giving a unique opportunity to get up very close.
The town of Quito – which is surrounded by the stunning Andean Valley, offers tourists two diverse experiences. The old town has recently undergone an extensive renovation project, but it has retained its uniquely vibrant, cultural feel. The busy streets are full of vendors touting every commodity imaginable, and the aroma of freshly cooked food hangs in the air, though alongside the bustling markets are some of the area's most historically important architecture. Less than a mile away lays the 'new town'. This colourful but modernized area is a draw to tourists due to its many cafes and restaurants. While lacking the cultural draw of the old town, it has enough Ecuadorian charm to make it worth a visit, especially the central area of Mariscral Sucre.
Almost every tourist will pass through the island of Santa Cruz. It is one of the most heavily populated and built up parts of the Galapagos Islands, but don't let that put you off if you are searching for an idyllic retreat. It is home to some of the area's most accessible and magnificent beaches. Santa Cruz is also home to Bahia Tortuga (Turtle Bay), and the opportunity to visit the famous Chato Tortoise Reserve is not to be missed. In addition to this, wildlife lovers can charter a boat and take a day trip to one of the surrounding islands, such as Seymour Norte and Plaza Sur. If you enjoy exploring, then another destination to add to your itinerary is the island's lava tunnels.
In July 2012, The Red Mangrove Dive Academy opened its doors to visitors, and it is fast becoming a popular draw for scuba divers. The academy will take divers out to 45 different locations, and there are opportunities to swim with manta rays, dolphins, whales and, for the brave and more adventurous diver, sharks. Red Mangrove has an on-site hotel, but also welcomes non-guests.
Just northwest of the Island of Santa Cruz lies Isla Santiago, also known as San Salvador, after the first island to be discovered by Christopher Columbus. The island is formed from two volcanoes and the remnants of the Pahoehoe lava flow can still be seen at Sullivan Bay. There is abundance of wildlife here, including sea lions, seals, turtles, dolphins, flamingos and sharks. These are best seen from Puerto Egas, on the west side of the island. This area is also worth a visit for its unusual black sandy beaches.
If you enjoy the volcanic surroundings of Isla Santiago, then you may also wish to stop off at Isla Fernandina. At an estimated 400,000 years old, this Island is believed to be the most recently formed island of the archipelago. It is also the one with the greatest contemporary volcanic activity, the most recent eruption being only four years ago. Unlike the surrounding islands, which have suffered a degree of decimation through the introduction of non-native species of wildlife by settlers, Isla Fernandina is virtually untouched. Visitors can visit Punta Espinosa to see the island's large colony of iguanas. A boat trip around the island offers the Galapagos Islands' best opportunity to witness flightless cormorants, as well as Galapagos Penguins and many other native birds. A must see for bird lovers.
Aspiring ornithologists will also not wish to miss a trip to Isla Daphne. Daphne Island is another active volcanic island, and is home to a large nature reserve. To protect the unique local wildlife, visitation is heavily restricted, but trips are available by arrangement. It offers an unprecedented opportunity to see beautiful, colourful and rare species of birds at close proximity. This includes the Blue-Footed Booby, Red Billed Tropicbirds, Galapagos Penguins and Short Eared Owls.
The largest island in the archipelago is Isla Isabela, at 4,640 square kilometres. Island Isabela is over a million years old and is an amalgamation of six shield volcanoes, all of which are still currently active. The biggest draw to the island is its diverse fauna and flora, which is very different to the surrounding islands in the archipelago. This is because the volcanic activity has restricted the nutrients in the soil. Perhaps its greatest draw to tourists, are the numerous species of tortoise. The colonies of tortoise on the island are more numerous than in any other part of the Galapagos Islands.
Genovesa Island is one of the more remote islands, and is only around 14 square kilometres. Its nickname is 'Bird Island', because of the thriving number of species that reside here. Genovesa is considered to be the best opportunity to see Nazca Boobies, Red Footed Boobies, Storm Petrels, Galapagos Mockingbirds and Darwin's Finches. Once more, this island is ideal for bird-lovers. The island is also popular among visitors who enjoy diving. Darwin Bay has several areas which are suitable for this activity.
The Galapagos Islands offer the holiday of a lifetime, whatever your taste in recreational activities. Each island in the archipelago has its own unique and wonderful attractions and experiences. But what every island does have in common is that they are areas of unrivaled beauty, breath-taking scenery, and diverse wildlife.