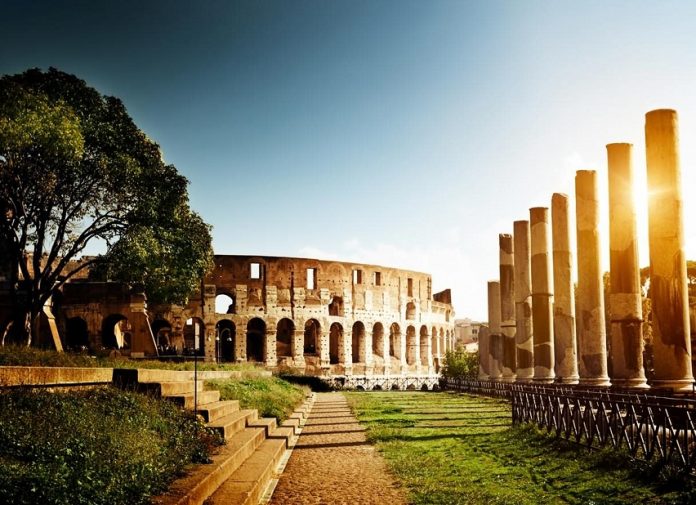 Rome is the capital city of Italy. It is a large city, with more than 2.8 million residents, and is the only city in the world which contains a state inside of itself.
The Vatican City is itself, a whole state. Rome is a popular destination for tourists, and is well known for its museums, architecture, and rich religious culture.
The History of Rome
Archaeologists have found evidence of human occupation in Rome dating back as far as 14,000 years, but there could be even older settlements that are obscured by remains of modern settlements. Roman legends say that Rome was founded by Romulus and Remus, twins who were raised by a she-wolf. Romulus and Remus built a city together, and then Romulus killed his brother in anger after an argument. This story was recorded by Virgil, a famous Roman poet, in the 1st century BC.
Whatever the true history of Rome, the earliest Roman settlements grew into a large city, and became the capital of the Roman Empire. Even when the influence of the Romans faded overseas, Rome itself remained an important city. It became an important place for the Catholic Church, and became the capital of the Papal States. The history of Rome and the Catholic Church is a long, complex and storied one which includes corruption, nepotism and plotting, especially during the 15th to 18th centuries. The story takes a positive turn after World War I and World War II. Rome escaped the destruction that befell other cities in Europe, and managed to grow and thrive after the war ended, becoming the cultural and religious centre that it is today.
Attractions in Rome
Rome is full of amazing attractions, and it would be almost impossible to see them all in one trip. The most popular attractions are the squares. The Piazza del Campidoglio is the headquarters of the Italian government, while the Piazza Venezia is regarded to be the heart of Rome itself. Piazza di Spagna is home to the world-famous Spanish steps, and Piazza Navona features some incredible Baroque architecture. St Peter's Basilica is located on St Peter's Square. This majestic Basilica is one of 19 in Rome, and is the world's largest Christian Basilica.
One hugely popular attraction is the Coliseum. Historically, this was where ancient Romans went for entertainment, including animal combat and watching gladiators fight. The Coliseum is now severely damaged, but visitors can take tours of the structure and learn its fascinating history.
Other Roman attractions that are still available for exploration include the Roman Forum, the Pantheon, the Baths of Caracalla, and some Roman Aqueducts. The Trevi Fountain, while not a true Roman structure, is also incredibly popular. The fountain that stands there today was built in the mid-18th century. It was designed by Nicola Salvi in 1732, and was completed thirty years later. The fountain has been through several evolutions, however. It is unknown how old the original Trevi fountain was when Pope Urban VIII asked architect Bernini to create some sketches for a redesigned fountain in 1629. Bernini moved that original fountain to the other side of the square, and started work on a new design, but that work was abandoned when Pope Urban VIII died, leaving Nicola Salvi to pick up the project the following century. Even if the new fountain is not as old as the Coliseum, it is still a beautiful sight to behold.
Rome isn't all about architecture and museums, however. There are lots of other things to do in the city. Rome is considered to be one of the fashion capitals of the world, and there are a lot of great shopping options in the city. In addition, there are some amazing restaurants. If you enjoy fine dining, then you should head away from the central squares and explore some of the side streets to find out where the locals eat. As with any foreign holiday destination, the best restaurants are the ones that are off the beaten track. For traditional Roman food, explore the Jewish area of Rome. You will find great pizza in the Trastevere, and international cuisine in Monti and Campo De Fiori.
Staying in Rome
Rome is a popular tourist destination, but accommodation can be quite affordable. The city has a lot of hostels, dormitories, apartments and bed and breakfast facilities, as well as hotels to suit all budgets. Prices tend to be much lower in the winter, when hotels are less busy. One interesting thing to note is that unlike many other tourist destinations, Rome still has a lot of independent hotels with owners that are willing to barter. If you don't mind haggling you can get a good deal on your room.
Getting Around Rome
Rome has a good public transport system which includes buses, trams and a metro service. You can purchase tickets for the public transport system at metro stations and major bus stops, from vending machines, in bars, and from news-stands and tabacchis. Please note that ticket vending machines do not give change. Night buses run between 00:30AM and 5:30AM, and allow you to purchase tickets on board.
Rome is quiet pedestrian friendly, but if you want to get around quickly and don't feel like using public transport, you can rent a bike or a scooter. Vespa rental companies are commonplace, and daily rental charges are quite affordable.
Getting to Rome
Rome has two airports, the Fiumicino Airport (or Leonardo da Vinci airport), and the Ciampino airport. The Fiumicino airport is the main airport, and is well-served by trains and buses. Ciampino is a smaller airport, and is mainly used by low-cost airlines. This airport does not have a train station, so visitors will need to use the COTRAL bus to get to the Anagnina metro station, and then transfer to Metro A to go to Termini station. The COTRAL bus stops at 11PM, and the train from Fiumicino Airport stops at 11:30PM. Visitors arriving late at night should take a taxi into central Rome.