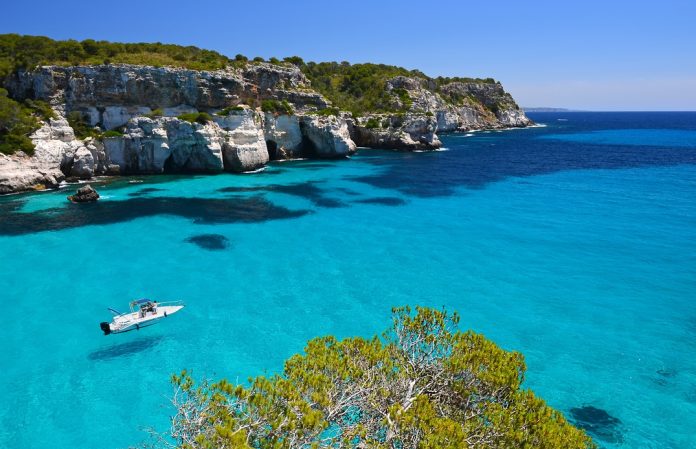 The various Balearic Islands of Spain are full of hidden treasures. The islands are located in the Balearic Sea, off the east coast of Spain. The four islands are directly east of Valencia and south of Barcelona.
The islands enjoy mild seasons; although the climate is extremely hot from May to September, although the natural beauty of these islands can be explored throughout the year. Each of these islands is utterly unique in its own way.
The Balearic Islands of Spain consist of Mallorca, Minorca, Ibiza, and lastly Formentera. There are other small islands making up the group, but these four represent the most common tourist and business destinations.
Ibiza
Ibiza is the most popular destination in the Balearic Islands. It has a population of 100,000. It has dozens of flights arriving daily from locations around Europe, and these islands are extremely popular throughout the year. Ibiza has a very busy dock, with ships arriving throughout the day and evening, this is situated by Ibiza Town, and the views of this harbour are stunning both day and night. The island is a popular destination for weddings, due to the beautiful photographic scenery, but the island is also popular with young and old alike. You can get around the majority of towns throughout Ibiza on foot, due to their small size, and these towns are extremely quaint. To fully explore the beauty of Ibiza it is best to hire a car to explore the island fully.
Ibiza Town must be a port of call. It is a beautiful white-washed historical town perched on a hill, with stunning views over the bay. It has many winding streets and is very popular with tourists during the summer months exploring the vast array of shops, nightclubs and restaurants. It is known as a "hippy town", as many Europeans come to Ibiza Town to sell their wares of pottery, jewellery, and clothes etc., all of unique design.
The real fun in Ibiza starts after dark when clubs like the Jockey Club, Amnesia, Privilege, Es Paradis, and DC10 open their doors to welcome both locals and tourists alike. Here one can enjoy food, music, and dance. Ibiza is noted for its nightclub scene and thousands of youngsters arrive in Ibiza each summer to experience this "party atmosphere". This partying goes on 24hrs a day, both on the beach and in the clubs throughout the island. Ibiza is therefore known as the "party capital" of Europe.
Away from this party atmosphere, Ibiza is a stunningly beautiful island with many tranquil bays, and the famous movie "South Pacific" was filmed here. If visiting Ibiza, you may have a hedonistic holiday, a truly relaxing holiday or a sporting type holiday, with surfing, sailing and swimming available. Alternatively you may visit many of the traditional towns and villages to see what a truly diverse island Ibiza is.
Mallorca
Mallorca is the largest of the four major islands and, as Ibiza, is a beach paradise, offering dozens of white sandy beaches. Getting to Mallorca is simple. The Palma de Mallorca airport is the third largest airport in Spain and has flights arriving from major European destinations around the clock.
If you want to experience the real adventure of Mallorca, schedule a few nights at one of the Fincas on the island. These rural tourist locations are rebuilt farmhouses and country villas, where you can escape the hustle and bustle of hotels, and experience much of the unique history of this island.
Mallorca is famous for its wines and liquors, and should you wish to explore the wineries and breweries of this island you will enjoy the experience as many samples of wines and liquors are available to you. The selection of red and white wines found in Mallorca will satisfy most palates.
Palma is the capital of Mallorca, and this city is well worth exploring, particularly it's beautiful cathedral and waterfront, where you may sit and drink in sumptuous bars and restaurants overlooking the tree-lined harbour. To highlight the beauty of Mallorca – The King of Spain holidays here!
Further places of interest to visit whilst in Mallorca, include the pretty towns of Portinatx and ancient Soller, the large Animal Park, which will particularly appeal to young children, and finally one of the most spectacular sights on earth – "The Blue Grotto".
Minorca
Minorca is smaller than and not as popular as Ibiza and Mallorca, due to its size. It is more of a "beach holiday destination", as it does not have the history of Ibiza and Mallorca, and is more of a "family holiday beach destination". It therefore caters for the young at heart and especially for families with young children, although it also appeals to couples both young and old alike. There are numerous unspoiled beaches, hotels, bars, restaurants and nightclubs. It is therefore ideal for a more laid back holiday, as it is not as thrusting as Ibiza and Mallorca, therefore Minorca appeals to those with more modern tastes.
Formentera
Formentera is the smallest of the four major islands and is tied with Ibiza for being nearest to the Spanish shore. Formentera has no airport and only seven thousand regular residents. It is a popular tourist destination for people seeking unspoiled nature and beautiful natural beaches. There are not many visitors to Formentera, due to its size, however, this tiny island is usually visited by tourists on a day trip by hovercraft, to experience the unique language which is a "whistling language" unique to the locals.
The Balearic Islands of Spain are a wonderful destination for anyone seeking a change of pace. The islands offer a variety of activities ranging from wild nightlife to quiet unspoiled beaches. The variety of restaurants and hotels is magnificent and caters for all pockets and tastes. The one unifying element you will find on all four of the Balearic Islands is the friendly, hospitable citizens. This is a destination you will enjoy and be sad to leave behind, leaving you with wonderful memories to cherish for many years to come.