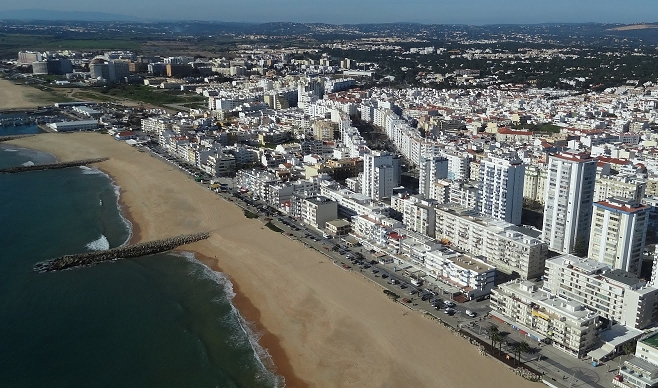 The Algarve is a beautiful place situated in southern Portugal, and the whole area has no more than half a million residents, so the area is very peaceful, and in a lot of cases, deserted.
Tourism does a lot to support the economy in this region, and is a location which is very easy to visit if travelling by air. Although most of the tourists are from the EU, it has recently become popular with Middle Eastern, Asian and American visitors.
The history of this area is deep, and dates back to 1000 BC, where evidence of trading ports have been discovered. The Romans had a large presence in the area, again for sea trading, and there are a large number of buildings still visible to this day. During the 700's the Muslim's conquered the area until the 12th century, when the Portuguese invaded. These wars continued on and off for nearly 100 years before coming to a conclusion, and the Algarve came under full Portuguese control. In 1755 the coastal area was hit by a huge earthquake, quickly followed by a huge tsunami which wiped out many buildings and people's lives.
Quarteira is a civil parish area within the Algarve, and is very quiet compared with other parts of the Algarve. Quarteira City has a total population of no more than 22,000 people. This area has outstanding beauty, and has plenty of old traditional buildings, as well as more modern ones to cater for today's travellers. A number of Roman ruins can be found in this area. This region of Portugal is well known for its amazing panoramas, pine forests, fishing and sandy beaches.
Climate
• The average temperature in this region hits a low of 52F (11C) during the winter months of December and January, and peaks during the summer months of June, July and August at 73F (23C). Temperatures in the summer can reach highs of 82F (28C), but if you are staying on the coast it may be cooler. Rainfall is pretty non-existent during the summer months.
Interesting Areas to Visit
• 'Fonte Santa'
Many people visit this place for healing, as the natural spring water is said to have special powers. Even if you do not believe this, it is still a wonderful place to visit.
• 'Loule'
Most people who wish to see traditional Portugal will visit here at some point. Every day, except Sundays, they have an Arabian-style market, where you can purchase various diverse items from mats to clothing. The town is surrounded by 13th Century walls, which you are allowed to walk along, and a must see is the local 'Church of Nossa Senhora da Piedade'.
• 'Vilamoura Marina'
Not far from Quarteira, this is a very pleasant area on the coast with a number of good restaurants, bars and cafes.
• 'Faro'
Plenty of shops are situated here for the traveller to browse, of special interest here is the Cathedral 'Cidade Velha', this is a splendid building, and it is worth spending at least half a day here. Boat tours of the local coastline are also available from "Faro.
Area Activities
• Golf
Playing golf in this beautiful area is amazing, and although some of the courses are not up to professional standards, they are still wonderful to play on, surrounded by spectacular scenery. Local courses are Laguna, Pinhal, Millenium and Vila Sol.
• Tennis
There are a total of 12 courts at the local tennis centre for the tourist to participate in, if desired.
• 'Casino Vilamoura'
As with all casinos, a good meal and a drink are available here.
• 'Atlantic Park'
This water park is great for the kids, and even more amazing for the parents. A great place to cool off!
• 'Almancil Karting'
If you know the Jacarepagua circuit in Brazil, then this is an exact replica to enjoy, and fathers will love this place as much as the kids, if not more!
• 'Roma Mini Golf'
This is really for the children, but adults can get involved as well. There are 18 holes to play.
• 'Zoomarine'
A great name, and very apt, and if you wish to see sea lion and dolphin shows, in addition to other various kinds of fish, then you will love this place. They also have daily shows with tropical birds and birds of prey. There are plenty for the kids to do here, and a few food outlets are on-site..
• Boats
You can hire boat trips here from the marina, and if you are feeling a bit sporty, you can go out on a fishing boat and try your luck! These boats are all well priced compared to other areas.
Churches
• 'Igreja Matriz' (Loule)
A mosque was built here during the Muslim rule, and part of this mosque still stands today, mainly the bell tower. The church which stands here now, was built in the 12th century, with additions added in the 16th century.
• 'Igreja Matriz', Sao Lourenco
You will find this church east of Almancil; this was quite recently built compared to other churches in the area, being constructed in the 18th century. This church is the most famous one in the area.
Galleries
• 'Praça do Mar'
An art gallery open all year with a number of exhibitions and displays.
• 'Galeria de Arte'
You will find one of these galleries in most parts of the towns of the Algarve region.
• 'Panda Art Gallery'
If you admire the art you see on display here, it is available for sale.
Places to Eat
• 'Oscar's Gastro Pub'
This has only recently opened, but the local reports are that the food is very good.
• 'BJs Oceanside'
If you like fresh seafood then you certainly get that here, it is delivered straight off the local fishing boats, and into the kitchen. You can eat while enjoying the beautiful beach view!
• 'Marufo'
This restaurant is for those who particularly love chicken and various traditional and modern meals are on the menu.
Quarteira on the Algarve is a very un-spoilt area, and if you love scenery, peace and tranquillity, then this destination is for you. The area is competitively priced, and the locals are pleasant and extremely welcoming.