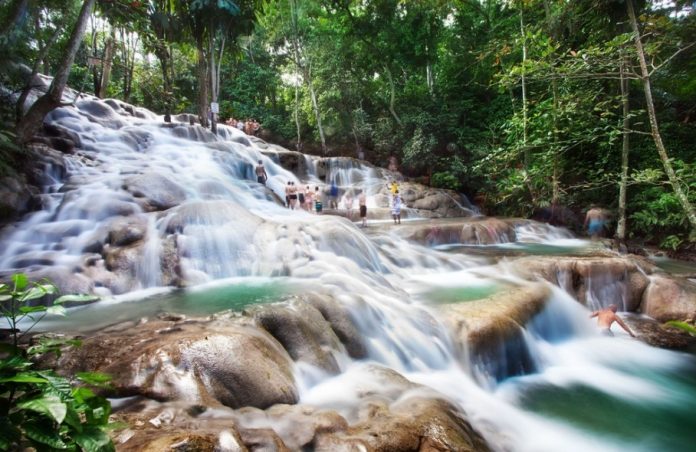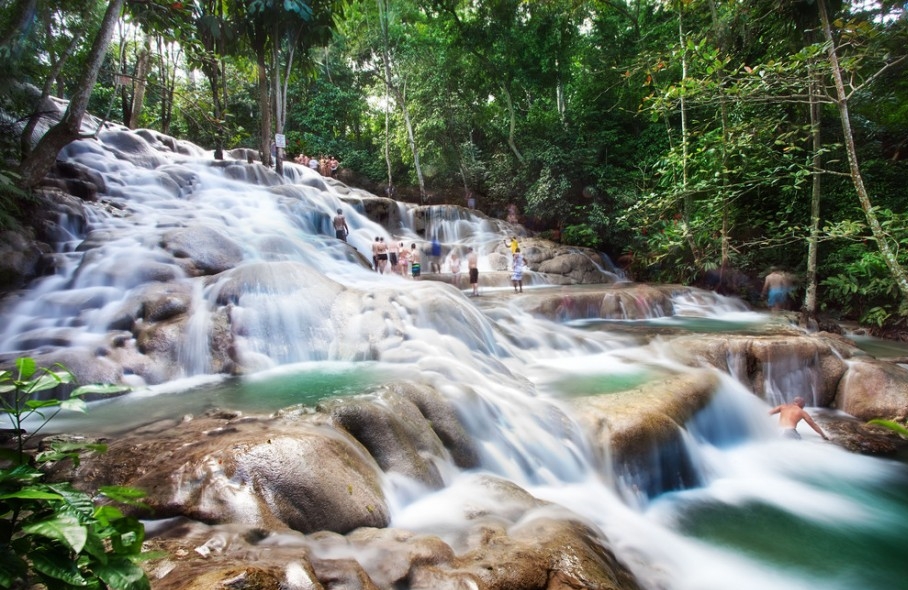 Everybody dreams of having that picturesque, tropical vacation. When you think of a tropical paradise, you might imagine white, sandy beaches and pristine waters.
Perhaps your tropical dream vacation includes a strawberry daiquiri or an ice cold beer as you bask in the tropical sun.
Jamaica is in the Caribbean, and is the third largest island in the area, with Cuba and the Island of Hispaniola being larger. The weather is Caribbean perfect, meaning that it feels like a never ending spring, no matter when you chose to visit the island. Sunshine and blue skies are sure to make your trip fantastic!
The official language on the island is English, which is an added plus, since many destinations have a language barrier. Not so here! Although there is also an English Creole spoken by many of the locals, you'll find yourself able to communicate well. You'll also be comfortable with the currency, since the US dollar is widely accepted, if you'd rather not exchange your dollars for Jamaican dollars!
The cuisine is delicious and well known around the world. Caribbean Jerk Chicken found its roots here, on the island of Jamaica, and is now a well-known spice rub, popular throughout the world. You'll be familiar with the island's other foods, also.
In addition to the famous Jerk rub, the island is home to many other well-known tropical fruits, including coconuts, mangoes and pineapples and can be found in abundance on the island. It is said that there are so many different kinds of mangoes that grow here, that the locals stopped trying to name all of them and merely started numbering them instead! In fact, many of the local dishes are based around the fruits that grow here.
Now, let's turn to our main destination, Ocho Rios, Jamaica. Ocho Rios is located on the north coast of this beautiful Caribbean Island. In fact, the locals will proudly tell you that Columbus landed here in Ocho Rios!
While the name means 'eight rivers,' no one is really sure how the area was given that name, since there aren't eight rivers anywhere in the area. What is nearby is the famous Dunn's River Falls, a gorgeous waterfall that is a major attraction for the entire Caribbean.
This amazing waterfall will be forever impressed on your memory as a spectacular part of your trip to Ocho Rios, Jamaica. The falls are an impressive 180 feet high and cascade down over 600 feet. Once you see them, you'll never forget them!
After you visit Dunn's falls, you can spend the afternoon living your dream, right here on Dunn's River Beach, with a Piña Colada and a cold beer in your hand. This beach is one of the highlights of the north coast, and as soon as your toes hit the water, you'll discover why. The sea couldn't be a more tropical, turquoise blue, and the temperature of the water, couldn't be bettered.
When you tire of the beach, you can take a short walk past town to Shaw Park, a postcard perfect botanical garden that show's off the islands tropical plants in a spectacular way. You'll be able to enjoy yet another beautiful waterfall, as well as pools surrounded by natural beauty.
Ocho Rios is also unique in that it offers a plethora of distinct places to stay whilst visiting. There are high end resorts, bed and breakfasts, hostels, apartments available by the day or week, furnished villas and more. Therefor this holiday is suitable for all travel budgets.
If you have a choice opt for the off-season as the tropical beaches are usually less crowded during these less popular times.
While many tropical dream vacations are available, you'll be thrilled by your choice of Ocho Rios, Jamaica, as this island offers the best that the Caribbean has to offer, from food to music, from waterfalls to perfect beaches, not to mention glorious weather. Whatever you are looking for, you'll find it here, in Ocho Rios