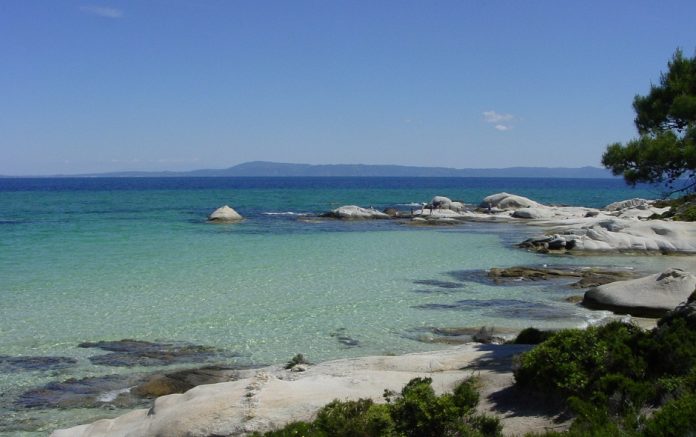 There are many beautiful places in Greece and none more so than Halkidiki which is situated southeast of the city of Thessaloniki.
This whole area is extremely deeply rooted in history, and is one of Greece's most popular locations for fantastic beaches (over 300), hidden coves, crystal clear waters and breath-taking scenery. The birthplace of the well-known Greek philosopher Aristotle was born here in the city of Stageira. There is much to do and visit in this area of Greece.
Recommended Places to visit
Athitos Village
This is a very picturesque area, and if you love scenery then a visit to this village is a must. The local architecture covers a number of centuries, all built with local ancient stone. The village still has the old taverns used centuries ago by Greek travellers, and you can enjoy a nice cold beer in them, as well as a traditional meal. This village is right on the Gulf of Toroneos so you can spend an hour or two on the beach nearby.
Thessaloniki
This is Greece's second largest city, and is full of historical buildings, most of them hundreds of years old. The 'White Tower' and 'Archaeological Museum', as well as the local churches must not be missed. It is here that you can visit the world famous Acropolis, and from here you can enjoy the spectacular views over the ancient city. The area is full of many pleasant and welcoming bars and restaurants.
Holomontas
For those who enjoy forests and miles of countryside, a trip here will give you much to savour. Whilst visiting Holomontas you will also pass through many small villages that ooze history.
Koutsoupia-Siviri Hiking Trail
If you really enjoy walking and trekking, this trail is about 20km long so it is advisable to arrange transport, which isn't a problem in this area (but it may be worth taking a few local taxi numbers with you). The trail follows the natural flow of the cliffs, and thousands of tourists walk this area every year. Along this trail you will come across many archaeological digs, as well as an early Christian Temple and a Roman villa.
Petralona Caves
The Petralona Caves lie around 30km from the town of Sani, and your hotel may be able to arrange an excursion here. The cave is rumoured to be around 700,000 years old, and is full of spectacular stalagmites and stalactites. Prehistoric fossils of man have also been found here.
Cruising Mount Athos
Take a coach to Ormos Panagias, and hire one of the many boats available to sail to the beautiful Mount Athos, which has historic monasteries that are still used to this day.
Pella-Vergina
This is the old capital of the Macedonia State and has some of the oldest archaeological remains in Greece, some dating back to the times of Alexander the Great. His father, Philip, is buried here, and you can almost feel the history when you visit.
Sithonia and Parthenon
If possible have your hotel arrange a tour of this area. It will be a full day trip, but the scenery is outstanding with some parts of it appearing to look like the Alps in Austria.
Bousoulas Trail
If you are looking for a quick walk then this one will take you through the local bird sanctuary. You will walk along the edge of the beach, and can take a nice cooling dip if you wish. One important rule for this area though, is you must remain on the paths so you do not damage the local area.
Meteora
This is where you will find the famed 'Mount Olympus'; many historical records show that this is the place where the Gods of Greece could be found.
Wine Tasting Tour
You can take a coach trip through the local forests and vineyards. This tour takes in Arnea and Poligiros and not only can you stop off to taste the local wines, you can also visit the local industries, where tapestries are still made by hand. Both wines and tapestries are available to purchase, if desired, on your tour.
Recommended Places to Eat
Ammos Restaurant
If you are looking for traditional Greek food, then this quality restaurant will certainly tempt your taste buds. Home style local cuisine is also on offer and in fact, they will cook anything you ask for, within reason. Tradition here is that you order a number of meals and have them placed in the centre of the table and just help yourself.
Artemis Restaurant
A great place for breakfast! (if you do not get this in your hotel), and the midday and evening meals are of a very high standard also. The location is up-market, so this reflects the higher than average cost.
Sea You Up Restaurant
Although this is the Mediterranean, this restaurant has managed to blend traditional local cuisine with Japanese cooking, which works really well. A lot of the meals include local seafood, and this establishment has won many awards for their food.
To Steki
Opened in 1971, and still owned by the same family, the Steki's, this is as traditional as you get. Everything from the vegetables to the seafood is fresh, and is never more than a day old. As the place is open from dawn till late at night, it is possible to have your breakfast and lunch here also. Once you have tasted their food you will want more.
Tavern Vangelio
This isn't a large restaurant, (with only around 50 seats), but as the weather is always good, they have ample room outside for around 200 people. As many of the locals eat here, you can clearly see how well loved the food is. They open at 10am and do not close until.
There is so much to see and do in this area, so make sure upon your arrival; you speak to the hotel receptionist, to enquire about various available excursions in the area. Ensure some of your visits take in the ancient history of this area, which makes Greece so important to our civilization today. Greece is relatively cheap compared with other countries in the EU and is easily accessible by plane from all corners of the planet.