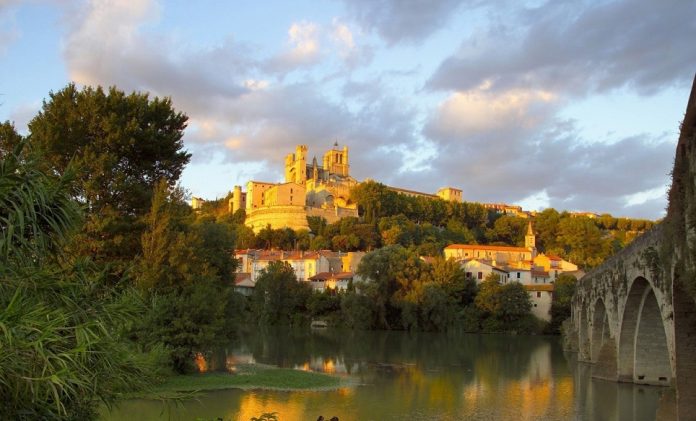 Languedoc-Roussillon is a picturesque region in southern France. It is made up of five portions,
and is bordered by Provence-Alpes-Cote d'Azur, Midi-Pyrenees, Auvergne and Rhone-Alpes. It is the most southern region in France, and sits next to the Mediterranean Sea.
This beautiful region has a long history of arts, music and literature. The Occitan, or Provencal literature originated in the region and dates back to the eleventh and twelfth centuries. This literature is frequently credited with inspiring the rise of vernacular literature in Europe. The region also inspired the 'troubador' tradition, and was the birthplace of many well-known composers, including Deodat de Severac, Giraut de Bornelth and Aimeric de Peguilhan.
Languedoc-Roussillon, as with the rest of France, is known for its wine. There are almost 3,000 square kilometres of Vineyards in the region – almost three times the area of vineyards that are found in Bordeaux. The wines in this region were overlooked for many years, because until recently few of the vineyards produced wine under a "controlled designation of origin", so scholars and wine tasters chose to ignore much of the area's production.
Getting To Languedoc-Roussillon
There are several airports in the region. The most popular airports serving Languedoc-Roussillon are Montpellier, Beziers, Nimes, Carcassonne and Perpignan. There are hundreds of airlines serving those airports, including major US airlines such as Delta, and budget European airlines such as Ryan Air.
Getting Around Languedoc-Roussillon
Public transport in the Languedoc-Roussillon is limited. There are rail services operated by SNCF, however they are relatively infrequent and do not run late at night. The coastal rail service offers links between Nimes, Beziers, Perpignan and Montpellier, and also offers access to Cerbere, making it perfect for day-trips; however the region lacks the frequent rail services that city-dwellers may be accustomed to.
Buses in the region are operated by individual departments, and each service operates only within its own region. As with the trains, buses are generally limited to the daytime. There are dedicated airport buses, and urban buses in the larger cities, but evening, weekend and inter-city services are not commonplace. The best option for getting around in Languedoc-Roussillon is to rent a car.
Travelling around Languedoc-Roussillon by car is easy because there are three highways serving the region. The A 61 links Toulouse to Carcassonne and Narbonne, while the A 75 links Paris to the Mediterranean coast, and serves Montpellier and the area near Beziers. The A 9 runs from Barcelona to Lyon, going through Narbonne, Beziers, Perpignan and Montpellier. The roads in France can be busy during the summer, but they are well maintained, easy to navigate and generally safe.
Accommodation in the region is quite affordable. Depending on your plans, you could stay in Montpellier and explore the region in a series of day trips, or hop from town to town spending the night in historic hotels and converted convents, to get the full flavour of each area.
Things to Do In Languedoc-Roussillon
Languedoc-Roussillon is a picturesque region with a rich history. The Mediterranean coastline is beautiful, the vineyards are a peaceful haven and a must-visit for any wine lover and the area is full of national parks, medieval fortresses, quaint villages, and peaceful canals.
The reasons that tourists visit Languedoc-Roussillon are as varied as the landscape. Sun worshipers will find that the beaches are perfect for sunbathing, and far less crowded than the resorts in other parts of the country. There are several Blue Flag beaches in Perpignan, and those looking for something a little more rugged will find that Cap D'Adge is a great place to stay.
If you're a history fan, pay a visit to Montpellier, where you will find several interesting museums. One must-visit place is the Fabre museum, which recently re-opened after extensive refurbishment. The museum boasts a huge collection of works of art, including works by Delacroix, Rubens, Coubrey, Maillol, Dufy and Poussin. There are a range of permanent and temporary exhibitions, so there will always be something new for repeat visitors to enjoy.
Beziers is a great place for culture lovers and sports fans. The area is the centre for rugby in the region, so will have plenty to offer sports fans. It is well worth stopping to take a look at the St Nazaire cathedral in Beziers. The cathedral was built in the 14th century, and its Gothic architecture is amazing to behold. The original St Nazaire Cathedral was destroyed during the sacking of Beziers in the early 13th century, but it was lovingly rebuilt afterwards.
If you like to get a flavour of the culture and history of the areas you visit, then the Catalon Folklore museum in Castillet is well worth a day-trip. Climb the arch to enjoy a beautiful view of Mont Canigou, and explore the rest of the town, to see the Palais des Rois de Majorque. You can see everything the town has to offer in a day, and then head on to Perpignan.
Two often overlooked activities are hiking and horse riding. There are several national parks in the area which offer great walking opportunities, whether you wish for a short daytime stroll or something longer and more challenging. Those who enjoy the outdoor life may want to book a week-long riding holiday, or a guided mountain trek which covers Canigou and the vineyards in Banyuls-sur-Mer. If a week-long trek sounds like too much for you, why not try a short canal cruise, stopping off along the way to take a walk around a few villages and explore some vineyards.
Languedoc-Roussillon is a diverse region, with activities for everyone. One thing that you should not overlook is the food. Most of the cuisine in the region is aimed at meat lovers, with sea food, duck and beef also being popular and used in many dishes. However, there are some dining options for vegetarians available. Be sure to include a wine tour and a stop at some local eateries (not chains) in your itinerary, for the true flavour of the real France.