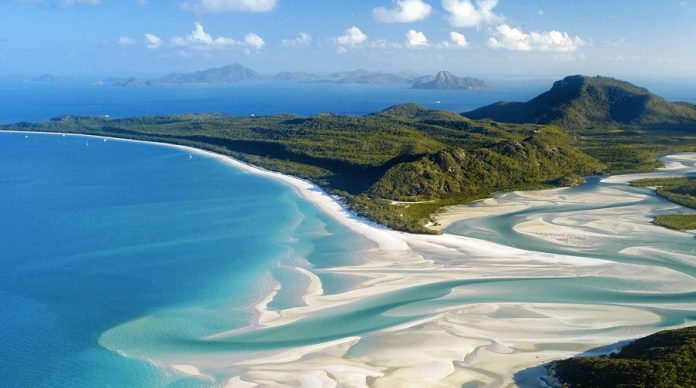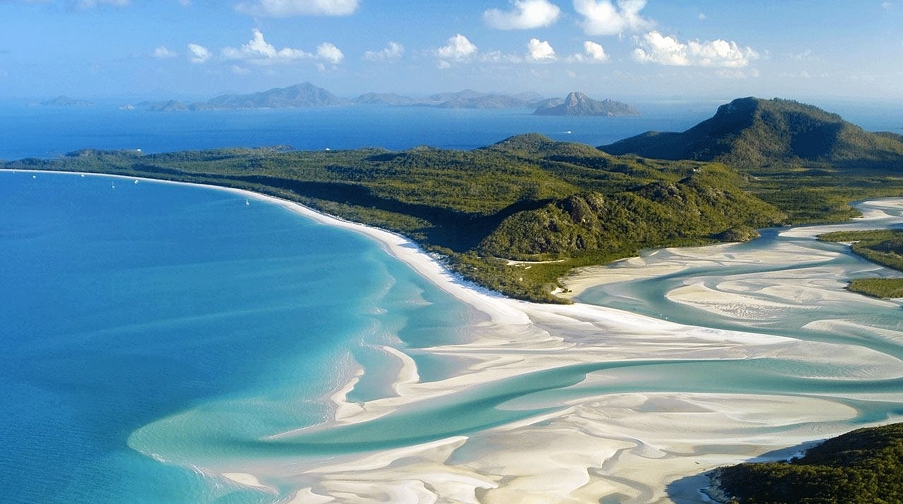 The Whitsunday islands, also known as the Whitsundays, are a chain of 74 islands in the Great Barrier Reef of Australia.
Whitsundays is one of the most beautiful holiday locations in the world, and is the perfect spot for holidaymakers looking for a refreshing and original place to enjoy the ultimate holiday ideal of sun, sea and sand. Nature lovers can explore the tropical islands, while honeymooners can take romantic walks on the beach and families can relax in the comfort of one of the areas many resorts.
The Whitsundays are so named because of an entry in Captain Cook's journal, which referred to the Whitsunday Passage. Even cartographers struggle to agree on which islands are a part of the collective known as "Whitsunday's Islands" and which is a part of the chain known as the Cumberland Islands. However it is generally accepted that Whitsunday Island, and the majority of the islands surrounding it off the coast of Queensland can be referred to as the Whitsundays.
Because there are so many islands in the Whitsundays "collective", the islands have been divided into groups. The main groups are the Whitsunday group, the Lindeman group, the Molle group and the Northern group. Each of these groups contains several islands. In addition to those islands, there are also several large rocks which are big enough to be named, but too small to be called islands in their own right.
Getting to Whitsundays
The easiest way to get to Whitsundays is by air. There are two airports in the area of the Whitsundays. They are Whitsunday Coast Airport, Proserpine, and the Great Barrier Reef airport on Hamilton Island.
The two Whitsundays airports are not well-served by international flights, so it would be best to fly in to one of the other major Australian airports and then fly to the Whitsundays from there. Flights from Cairns, Brisbane and Sydney all take less than two hours, while flights from Melbourne take three hours.
Getting Around Whitsundays
Getting around the Whitsunday Islands is surprisingly easy, given that they are a chain of unspoilt tropical islands. The Queensland Rail service stops in Proserpine, and the Bruce Highway, the main route serving the Queensland area, offers easy access to Proserpine too. There are regular buses running up and down the coast, as well as buses from Shute Harbour to the Airlie Coast. If you miss the bus, it is easy to find taxi and hire car services.
There are regular ferry services operating between the Whitsundays Islands. Services run both from the main resorts and the areas frequented by day trippers. If you prefer having the freedom to explore by yourself, it is possible to charter your own yacht and hop between the islands at your leisure. Many of the islands are small enough to cross on foot, and there are driving trails for visitors who want to see as much of each island as possible.
Things to Do In Whitsundays
The Whitsundays have something to offer everyone, from relaxing cruises or beach holidays to extreme sports sessions. One of the most popular ways to see the Whitsundays is by cruise boat. You can book cruises that last for a single day or several days, and call at a wide range of islands. If you are confident in your sailing ability, you can even charter a boat and set your own schedule.
One often overlooked Whitsundays activity is golf. The islands are home to several high quality golf courses which are suitable for golfers of all levels of ability. There are award-winning 18-hole golf courses and accessible nine-hole courses to choose from, including a golf course inside the national park on Molle Island. Hamilton Island has a fun 19-hole miniature golf course which caters to casual golfers of all ages.
Those of a more adventurous persuasion may want to try scuba diving. There are several companies which offer diving sessions in the Whitsundays region. Popular diving sites include the Bait Reef and Gary's Lagoon off Hamilton Island, the Caves and Canyons site on Hook Reef, the Manta Ray dive site and Wally's Wall, just off Airlie Beach. Whether you are a fully trained and confident scuba diver looking for a challenge, or a novice who simply wants to experience something new, your tour guide will be able to help you find a diving site that is suitable for your level of confidence and experience.
After seeing the Whitsundays from underwater, why not see them by air too? Flying experiences are an incredible and exhilarating way to see the islands, and a scenic flight over the Great Barrier Reef will give you a whole new perspective on this natural wonder. A trip in a sea plane is something that you will remember for the rest of your life.
If you are not sure how you want to see the Whitsundays, why not try an experience tour that includes a wide range of activities. Booking an experience tour saves you the difficulty of planning your itinerary, and ensures that you will enjoy a bit of everything, from fine dining to trekking, diving to sailing, and everything in between. One of the most popular tours is the Crocodile Safari, which is a short day trip that takes you to the homeland of the saltwater crocodile, before going on an adventure cruise through calm waters, and then stopping off for lunch.
Of course, no holiday would be complete without a shopping trip, and there are plenty of shopping opportunities on Whitsunday Island. The Whitsunday shopping centre is home to 50 different specialty retailers, and there are other smaller retailers at the Centro shopping centre. Many of the islands also have markets and souvenir shops where you can pick up handmade gifts, local food, and small souvenir items to take home with you. If you are staying in self-catering accommodation, you will find that there is no shortage of food stores, although opening hours may be limited.