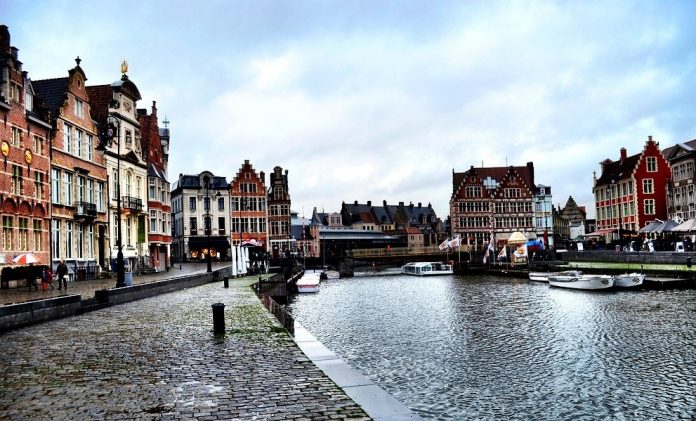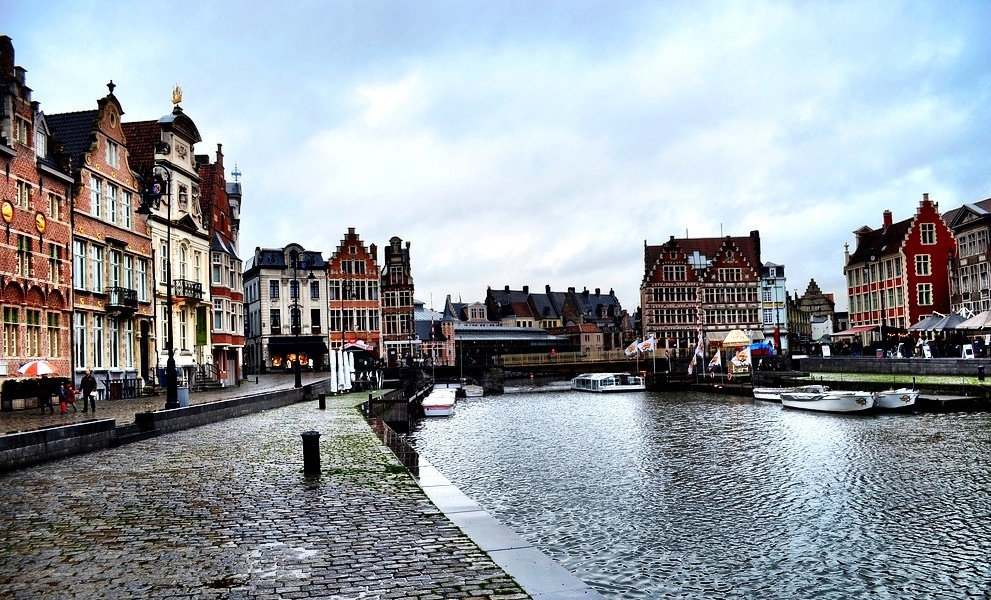 Ghent is a beautiful city located in the East Flanders province, part of the Flemish region of Belgium.
The area was first settled in the middle ages, and over time has become a bustling city port, and is one of the biggest cities in Northern Europe. The city is home to a respected university, and is a popular tourist destination too.
The History of Ghent
While archaeologists have evidence that humans lived in the area now known as Ghent as early as the Stone Age, the full history of the region is rather mysterious. There are archaeological signs of human settlements in the Iron Age and even the Roman era, but there are no written records from Roman times. The earliest written records date back to 650AD, when Saint Peters Abbey and Saint Bavo's Abbey were founded. The settlement of that time grew into a bustling city. In the 9th century, Vikings attacked and plundered the city twice, but the city recovered, and by the 13th century there were 65,000 people living there. This makes it bigger than even Moscow and Cologne.
More recently, during World War I and World War II, the city was occupied by Germans, but it escaped any severe damage. In World War II, the northern part of the city was shelled by artillery for a short time, but it did not suffer from the kind of severe devastation that occurred in other parts of Europe.
Popular Attractions
Ghent is renowned for its spectacular medieval architecture. The Saint Bavo Cathedral is still in good condition, and the Gravensteen Castle is a popular site too. Unlike many other historic cities, Ghent has managed to evolve over the years, and is a living, thriving city, rather than a city museum. You can see buildings from several eras adjacent to each other, and enjoy the diversity of medieval churches, 19th century university buildings, and theatres and opera houses from a range of different periods.
Ghent is home to several interesting museums, including craft museums, art houses with displays featuring Andy Warhol and Victor Horta, and folk art theatres which put on displays aimed at younger children. The city is also a food connoisseur's dream come true, with bakeries, restaurants and chocolate houses to suit all tastes. One popular local delicacy is the Tierenteyn, hot mustard that is reminiscent of Dijon mustard, but has a slightly more refined taste. Visitors will find some great fine dining options in the Patershol area, and there are some affordable, good restaurants in Sint-Pietersstation. If you prefer outdoor dining, take a trip to the Korenmarkt, or go for a walk around Vrijdagmarkt, which has a long-standing history as the social and political centre of the city.
Tourists visiting Ghent on weekends should visit the Kouter, a market which takes place every Sunday. You can enjoy a walk in a beautiful floral setting, eat fresh oysters and drink some lovely white wine. If you are a flower lover, why not time your visit so you can enjoy one of the five annual Floralies events. If you enjoy markets, the flea market at Bij Sint-Jacobs square is a must-visit. This market takes place on Fridays, Saturdays and Sundays, and attracts a huge number of stall holders. The shops around the square are also a good place to look for handicrafts and bric-a-brac.
For something a little more unusual, head to the Millionaires' Quarter. This district features some amazing homes built by world-class architects during the period between the two World Wars. These diverse showcase homes are now owned by some of the richest people in Ghent, and are a protected part of the city.
Another interesting place to visit is the Achtersikkel. This calm oasis is located less than 150 yards from Sint-Baafslpein, and is often overlooked by tourists as they rush around the city. The Achtersikkel is a peaceful little square that is home to the city's music academy. The Achtersikkel is named after some rich patricians, known as the Van Der Sickelens, who owned the buildings around the courtyard for many years. The original inhabitants were wealthy and well-respected, and this shows in the beautiful courtyard and the lavish towers.
Staying in Ghent
Since it is a large city, Ghent has a huge range of accommodation options, including everything from houseboats and caravans to luxury hotels. Many of the hotels in the city have been rated with the "Green Key", which means that they are certified as environmentally friendly and operate in a sustainable, ethical fashion.
Getting to Ghent
Ghent is located just 45 minutes away from the Zaventem Brussels Airport, which is served by flights from 70 different destinations. In addition to arriving by plane, you can also reach Ghent by coach or car via the E17 and E40 routes. Brussels South Train Station is just 30 minutes from Ghent, and there are five marinas in the city, so travelling by boat is convenient too.
Getting Around Ghent
Ghent is a large city, so it has a good public transport system. There are five train stations in the city, as well as a good network of tram lines, city buses and regional buses. Public transport is quiet and affordable, but using it is not necessary. A large portion of the city centre is car-free, so the city is structured to reflect that.
If you prefer to rent a car for trips outside of the city, you will find that getting around Ghent and the surrounding area is quite easy. There are two ring-roads serving the city, as well as two motorways – the E40 (heading east/west) and the E17 (heading north/south).
Ghent is one of the most interesting and vibrant cities in Belgium. While it is a popular tourist destination, it has managed to remain unspoilt, and is a friendly and affordable place to visit. There are many concerts, festivals, parties and shows taking place in the city, and there are entertainment options for people of all ages.